If the biblical book of Lamentations was always looking for updates, Kenyan farmers would easily fill a long chapter.
The story of a Kenyan farmer is one of hard work, long, tedious days of labor and perspiration in extremely arid lands, with little or not returns to the show after an entire year of slavery ohn closes it.
As I write this article, the Cabinet Secretary for Agriculture, Peter Munya, has announced a series of measures, including the import of maize from neighboring countries to quell the hunger pangs that are tearing many stomachs in the country.
Munya also suggested that Kenyans stop depending on their favorite meal, ugali, and try other foods. He did not advise Kenyans with Njeru Githae quote "you can eat rats".
Agriculture CS Peter Munya addresses the locals at Maili Tatu Stadium in Igembe Central on Friday 18th June 2021
To sweeten the deal for middlemen who appear to be the main beneficiaries of the shortage of maize in the country, the CS speaking at the Namanga border on Tuesday June 28 said the government will issue a directive which will suspend imposed levies on imported maize.
The move, Munya insisted, would reduce the cost of flour which currently sells for Ksh 210 for a two-kilo pack.
At the end of April 2022, a month after farmers had already sown their seeds with an expensive fertilizer which then cost Ksh 6,000 per 50 kilogram bag, the same minister announced that the price of the popular DAP fertilizer had been reduced to Ksh 2,800. . .
By then, most farmers had already planted their maize with little or no fertilizer or had abandoned the loss-making enterprise altogether. I am one of those who gave up the adventure.
Munya's "ephemeral" gifts, a month before the elections, are not relevant. The same interventions were read two months before the 2017 election when Jubillee was running for a second term.
The then Cabinet Secretary of Agriculture Willy Bett announced a Ksh 6 billion subsidy for maize to reduce the cost of flour to Ksh 90.
The 2013 Jubilee Manifesto was full of promises to reorganize agriculture: "…Imore and moree efficiency in agricultural production through mechanization and employment of modern technologies in agriculture while improving the certified seed and fertilizer subsidy program to reduce the cost of food production and manage inflation."
Ten years after, I am one of those farmers who would like complete the first chapter of the new book of Lamentations. For years I was a corn farmer and over the years I have grown different varieties of crops hoping to join the millionaire club to no avail.
Growing up on the slopes of the Cherangany Hills, in the heart of Kenya's breadbasket in Trans Nzoia County, milk and honey were literally rolling down the slopes. Second, the cooperative society movement was a powerhouse that helped farmers increase their wealth season after season.
My grandmother never had to worry about looking for buyers for her milk, two different trucks from the cooperative came to collect the milk a few meters from the house without fail.
At the end of the month, my grandmother would take the "face me" matatu to Kitale town where she would find her money waiting in her Posta account. Corn growing was stress-free with low fertilizer prices and an assured market at the National Cereals and Produce Board.
Agriculture was then as simple as that.
Over the years the government has deliberately killed the cooperative movement, the Kenya Farmers' Association (KFA), a bank that provided loans to farmers to expand their business, was killed by a coordinated looting by those in power. In the end, farmers wbefore left poorer and without capital.
Successive post-electoral violence followed which disorganized the peasant base. Cattle were plundered and corn acreage continued to decline over the years due to unreliable rain cycles, expensive inputs and a lack of storage that lead farmers to sell their maize at a pittance to middlemen immediately after harvest.
My grandmother who used to grow corn on over 15 acres of land gradually reduced her acreage to two acres in 2021. That means than the production of around 450 bags of corn she now produces just over 30 bags in a good year.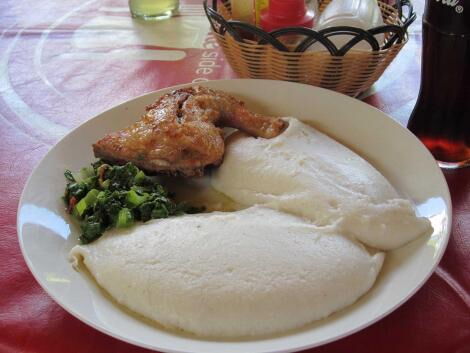 A sumptuous meal consisting of chicken ugali
Case
Now her biggest challenge is that when she cultivates more acreage and the harvest is plentiful, the government creates an artificial shortage and imports maize, leaving the farmer with a dead stock that she cannot sell. nor store. These continuous blows inflicted on farmers have led to a drop in production, which has led to food insecurity.
Land fragmentation has been a big obstacle to maize cultivation. My grandmother owned 25 acres of land which was subdivided among her eight children.
This basically meant that each child parted with half an acre for their farm and instantly became a subsistence farmer. Growing corn below 20 acres is a loss-making business according to experts.
"Farmers with less than 20 acres of land should not grow maize commercially because it is not profitable," Principal Agriculture Secretary Hamadi Boga said. Daily Nation.
The challenge facing farmers is more complex than provide temporary grants during an election year; they miss cheap and of qualityneeds, access to capital, low production, unpredictable weather, high taxation and non-existent extension services.
Many years ago we used to have an extension worker every week, he had a motorbike to make his trips easier. Today, these services are a luxury toh my grandmother.
I stopped growing maize this year because of the big losses I had last year. After spending a fortune growing corn, at harvest time, maize was bought by intermediaries at around 1,900 t Kshoh Kshs 2,100.
Today the same bag of maize sells for more than 5,000 Ksh a bag of 90 kgs. The sad reality, most farmers cannot dry and store maize until prices are high.
My grandmother who in the 80s was considered a wealthy farmer cannot afford to buy a bag of maize to feed herself today. Most farmers are poor and living in misery as politicians continue to light up their manifestos with false promises to revive agriculture.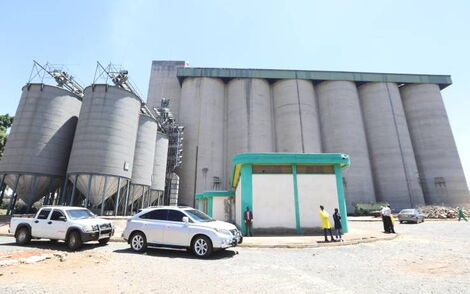 Maize silos and dryers at the National Cereals and Produce Board (NCPB) depot in Eldoret.
Case
dead violence crash kill