Unlike a combine, the Meadow Lake farmer was told he had to pay PST on his airboat.
Content of the article
Frank Su can't live without his airboat. Similar to a combine harvester, it helps her harvest and plant her wild rice crop in northern Saskatchewan.
Content of the article
But unlike a combine, the Meadow Lake farmer was told he had to pay PST on the boat. The surcharge is unfair, he says, but he is ready to fight it – not only for himself, but for other wild rice farmers in the north.
Content of the article
"Taxing us, I think, is really hurting the industry," Su said in an interview on Monday. "Fairness and trust matter most to me, and that's why I'm putting all this effort into fighting this injustice."
Su will take his case to the Saskatchewan Municipal Board of Revenue Commissioners next week, confronting the Department of Finance's plans to collect more than $2,300 in PST and other fees on his airboat and other property.
Su had not paid PST on the ship because it was to be used for his operation.
According to the legislation, various agricultural equipment and inputs are exempt from PST, including combines, tractors, spreaders, seeds and fertilizers.
Content of the article
However, through an audit of Su's farm from January 2018 to December 2020, the Ministry of Finance argued that his airboat should have been taxed.
According to documents provided to the Leader-Post, a ministry auditor told Su that the legislation does not exempt boats, even if it is a hydrofoil.
Su spent $25,000 on the boat, which came with a harvesting attachment. The department decided to only apply PST on $20,000 of this total because it chose not to tax the harvesting implement.
In addition to the airboat, the department applied PST on $13,500 of other expenses, which included a bagging table, utility trailer, airboat trailer, engine, and another boat trailer.
In total, Su was told to pay $2,322.05 in fees ($2,010 in PST and $312 in penalties and interest).
Content of the article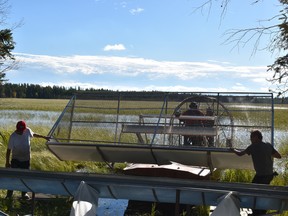 Saskatchewan Wild Rice: The Journey from the Pristine Northern Lakes to the Plate

Floods compromise wild rice farmers
Su told ministry officials that the airboats are specially designed for harvesting wild rice and it is not correct to consider the attachment as the "only agricultural part".
He said airboats are far from recreational. They are noisy, expensive and difficult to maintain.
On the Ministry of Agriculture website, it recognizes airboats as the main vehicle for harvesting wild rice.
"Wild rice farmers are also grain farmers," Su wrote to officials. "We cannot swim and pick rice by hand, with or without a bucket, while watching dryland grain farmers operate TVP-exempt air-conditioned combines."
Despite her concerns, the Ministry of Finance asked the Board of Revenue Commissioners to reject Su's appeal and have the taxes paid. The hearing is scheduled for October 11.
Content of the article
Su said the PST fee is an unnecessary barrier for the small wild rice industry.
The crop is mainly grown in northern Saskatchewan and the majority of farmers are aboriginal. Over the years, high water levels have challenged farmers.
Despite the size of the industry, Su said wild rice plays an important role in the economic development of the North. He said farmers are poorly funded and PST fees are an added burden.
"When it started, I was like, 'How come we have this discrimination?' said Su. "It was such a big surprise, and I feel like the government is not paying attention to it."
Although the Ministry of Finance requested that Su's appeal be dismissed, some staff at the Ministry of Agriculture were sympathetic to her case.
Content of the article
A provincial specialty crop specialist told him by email in late January, before the auditor had made his decision, that they supported his view on airboats.
"We won't stop discussing this point," the specialist wrote to Su. "It probably won't materialize quickly, but we will continue to push for this airboat recognition change."
Another court specialist in the Ministry of Agriculture told Su that he should seek a refund since current legislation subjects "boats" to PST.
The court specialist told him that airboats may be eligible for larger refunds if they have a self-supporting harvester as opposed to a boat with an attachment.
Later in March, however, a senior financial auditor wrote that while he agreed the policy needed to be changed, "taking the valuation on appeal is not the way to change the application of the tax regarding boats used in rice cultivation".
Content of the article
Saskatchewan Wild Rice Council board member David Fleury said the organization supports Su's efforts to fight DVT.
Fleury said wild rice producers pay taxes on various items and should be treated the same as other producers.
"There's a double standard and it's unfair," he said. "I would just like to see fairness in the system where we are treated the same and we get the same exemptions."
Su said he doesn't want the industry to go away.
"So many people have worked so hard to get to this point today," he said. "We hope we can take it to the next level. It is such a wonderful product.
News seems to be flying towards us faster all the time. From COVID-19 updates to politics and crime and everything in between, it can be hard to keep up. With this in mind, the Regina Leader-Post has created a Afternoon titles newsletter that can be sent to your inbox daily to ensure you are up to date with the most vital news of the day. Click here to subscribe.