Jan Dirk shows a two-year-old cheese disc to Shykh Seraj in Luntere, the Netherlands. Photo: Hridoye Mati O Manush
">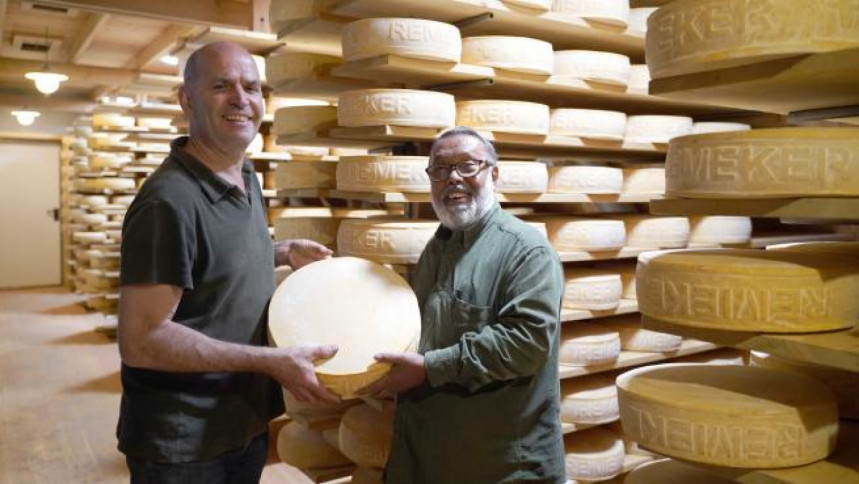 Jan Dirk shows a two-year-old cheese disc to Shykh Seraj in Luntere, the Netherlands. Photo: Hridoye Mati O Manush
In April of this year, I had the opportunity to visit the Netherlands, a country very advanced in agricultural technology.
Invited by the Dutch Embassy in Dhaka and the Netherlands Water Partnership (NWP), this was my second visit to the country where I first returned in 2015, invited by the Dutch Ministry of Foreign Affairs . This time I met traditional farmers.
For all the latest news, follow the Daily Star's Google News channel.
One afternoon I went to a traditional Dutch village, called Luntere, and saw a huge old-fashioned house next to a wide pasture, full of cows. A canal crosses the fields. I reached a dairy farm owned by Jan Dirk van de Voort, also known as Remeker.
It was a bright afternoon when I reached Jan's farm which has huge pasture fields, filled with lush green grass, for his cattle. Jan has 90 cattle, known as the Jersey breed, on his 70 hectare farm.
As soon as I arrived at the farm, Jan took me to the grounds and told me that the farm was built around 375 years ago. "It's a family farm with a long tradition," Jan said.
The farm was last renovated in 1925. After his grandfather and his father, Peter van de Voort, Jan took over the management and is now the owner.
Jan is a workaholic with incredible skills and indigenous knowledge of agriculture. His exceptional expertise not only consists in preserving the heritage of his ancestors, but also in keeping true organic agriculture alive. He runs the farm with 100% purity as his predecessors have done since the 1650s.
Many students from Wageningen University come here to learn about pastoral and dairy life, Jan said, adding that the main problem for herders here is animal feed. But when I asked what food we gave the cows? Grass, Jan answered in a word. He then paused and said that when it snows in winter they eat straws.
Jan, wearing a special boot and a shovel in his hand, took me to the pastures. For the past 40 years, Jan has kept the pasture soil completely organic. Jan said the natural grass contains enough nutrients for cows.
This floor remains as it has been since ancient times. I saw a lot of earthworms under the fertile soil, when Jan demonstrated the quality of the soil. Then he picked up an earthworm and said, "I don't cultivate this land because these earthworms are my natural plow."
There is a certain path for the cows to enter and leave the field. Livestock defecate where needed because cow dung feeds the grass. Jan said: "I talk to my cows, watch their movements. I want to understand what they are trying to convey or what they mean.
Jan never cut the horns of the cows because that indicates age. As the number of horn rings increases, cows age. They get minerals from their horns. There are natural flowers, called Dandy Lion, on the land from which her soil gets calcium, Jan claims.
Jan is happy with the profit he gets from Remeker. About 1,440 liters of milk come from his 90 cows every day. "I don't sell a drop of milk like other farmers do. I make organic cheese with the milk," Jan explained.
Meanwhile, seeing Jan's cheese factory, I was quite amazed. Shelf after shelf is filled with round cheese discs, weighing 10 kg each. Cheese is preserved in this way, using ghee (clarified butter) on the outside. A technique that comes from the wife of Jan.
The older the cheese, the more expensive it becomes. I walked up the stairs with Jan and saw another floor full of canned cheese. Jan makes cheese every other day. A two-year-old disk of cheese, weighing 10 kg, costs about 500 euros, or about 50,000 BDT. The price of Jan's cheese is three times higher than other cheeses available on the market because they are 100% organic.
I calculated that the cheese Jan has at home is worth hundreds of thousands of dollars. Jan uses salt water from the Celtic Sea to soak the cheese. He showed the place where ghee is prepared. The milk Jan uses is unpasteurized and comes only from his Jersey cows.
The cattle's best medicine is their daily diet of grass, clover, and a rich variety of other herbs. Occasionally they feast on raw oats, rye and other unrefined grains. Jan then took me to his sales center, from where I bought 500 grams of cheese for my eldest son Ayon.
Dear readers, Remeker is a model of heritage preservation. With devotion, it is possible to preserve aristocracy and tradition. If Jan had wanted to build a modern farm, it would have been quite easy, but his family is committed to protecting the farm's heritage. Jan's commitment to organic farming is exemplary for farmers around the world.